Welcome to Vinegar Hill, a family-run, independent retailer offering a range of carefully curated homeware, gifts, and stylish clothing from both the UK and around the world.
The word "family" conjures up many different things to many different people. In essence though, family is where it started for us and it's in many ways fundamental to the business, we have 26 years on.
Our family has grown somewhat, with 12 stores spanning some of the most beautiful and captivating towns and cities in the UK. Now with an online presence we are excited about the next generation...Take a look at our journal of the past 26 years and just some of the exciting times just around the corner...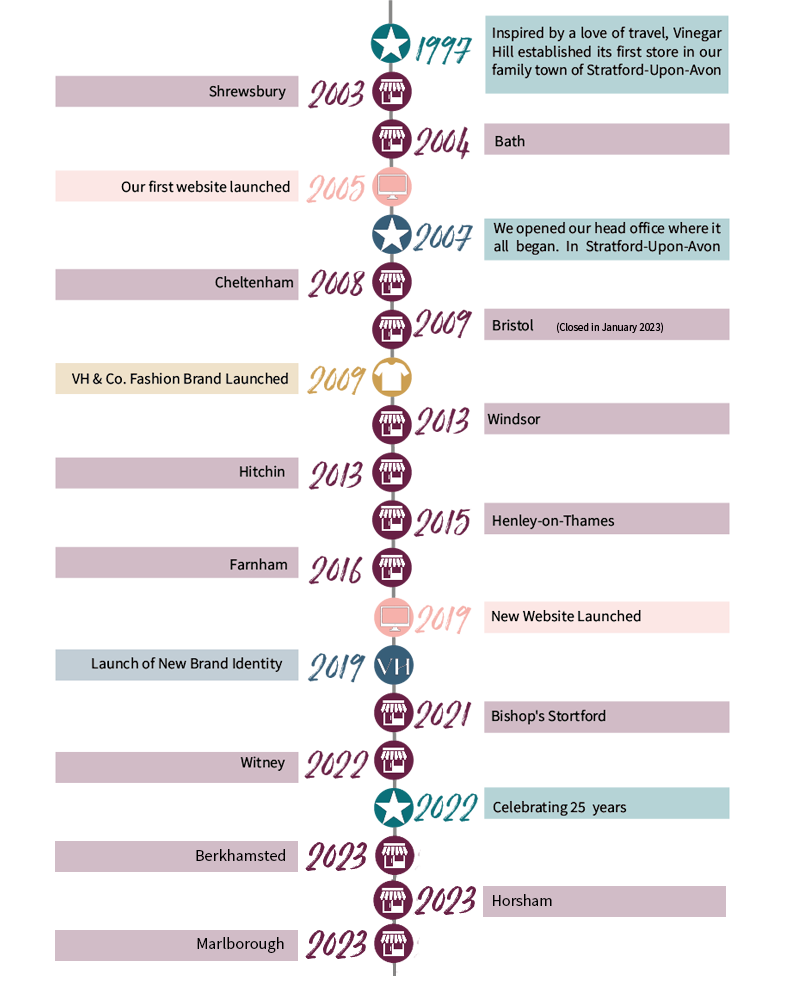 At Vinegar Hill we take security very seriously. We want our customers to feel completely at ease when doing business with us over the Internet.
We know that security is a major concern to some of our customers and therefore we have put a system in place that is far safer than giving your credit card details over the telephone or giving your card to a waiter in a restaurant.We feel confident that credit card information entered on our site will not be accessed by any unauthorised person or company.
Our secure sockets layer (SSL) encryption uses 128-bit encryption. In addition to this, once your order has been transferred to our order processing system all credit card details are removed from the website as an added precaution.Your browser will go into secure mode as soon as you click to go into the checkout or as soon as soon as you login.
You can check that you are shopping in a secure environment by looking for locked padlock icon at the bottom of your browser screen.Your credit card details are not held on the Internet.Once the payment has been validated and approved, your details are deleted.
This does mean that you will need to repeat your credit card details for every order - a minor inconvenience - but one that makes it totally safe to order online with Vinegar Hill.
For your peace of mind, you may also wish to view our Terms and Conditions, Delivery and Returns information, our Privacy Policy and our Cookies Policy.
Thank you for choosing to shop with Vinegar Hill.