The English Soap Company began in 2000, when founders Bob & Juliet discovered several vintage soap moulds lying disused in a machinery workshop farm in Kent.
As the business grew Bob & Juliet moved their soap operation out of their kitchen and on to a local farm in the Sussex countryside. From here the business grew from strength to strength as demand for their soaps increased.
In 2012, the couple's son, Oliver, took over as a managing director along with his wife Ailsa as Operations Manager in 2016. In 2017 the English Soap Company expanded production, producing hand creams, hand sanitisers, shower gels, perfumes and much more.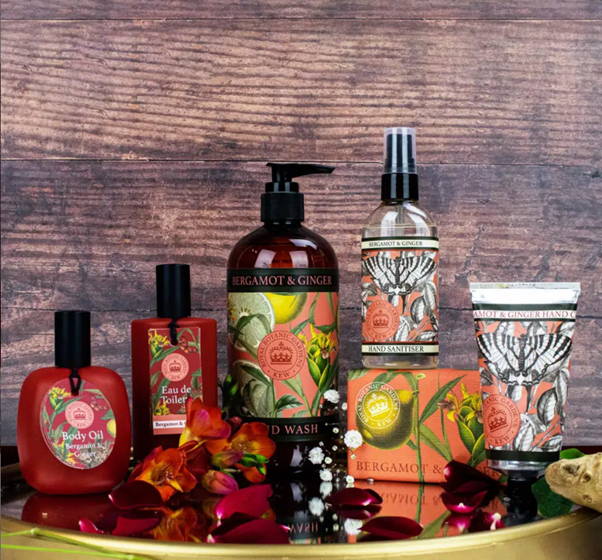 Bob and Juliet spent many years perfecting the art of soap making and perfumery to make the perfect soap. A soap bar smooth and silky in texture, that moisturises rather than dries the skin, and above all is effused with a luxurious designer perfume that lasts until the end of the bar.
In 2019 Juliet won International Business Women of the Year at the Business Women Excellence Awards.
They still make all their products on the farm site in the heart of the English countryside, in beautiful Waldron, East Sussex but also, they export over 40 different countries all over the world, with partnerships with large global brands such as Disney and The Royal Botanical Gardens at Kew.
Their mission is to create luxury soap bars and toiletries of the highest quality. Everything they make is crafted with care and commitment, proud that all products are made at their Sussex farm, by their family of 35 staff members.
The English Soap products are made of pure vegetable oils to create a luxury soap bar that will leave the skin soft and smelling fresh. All perfumes are made in England by expert perfumers and have been designed specifically for the English Soap Company. Their products are hand finished before going out, ensuring quality and care from inception to finish.