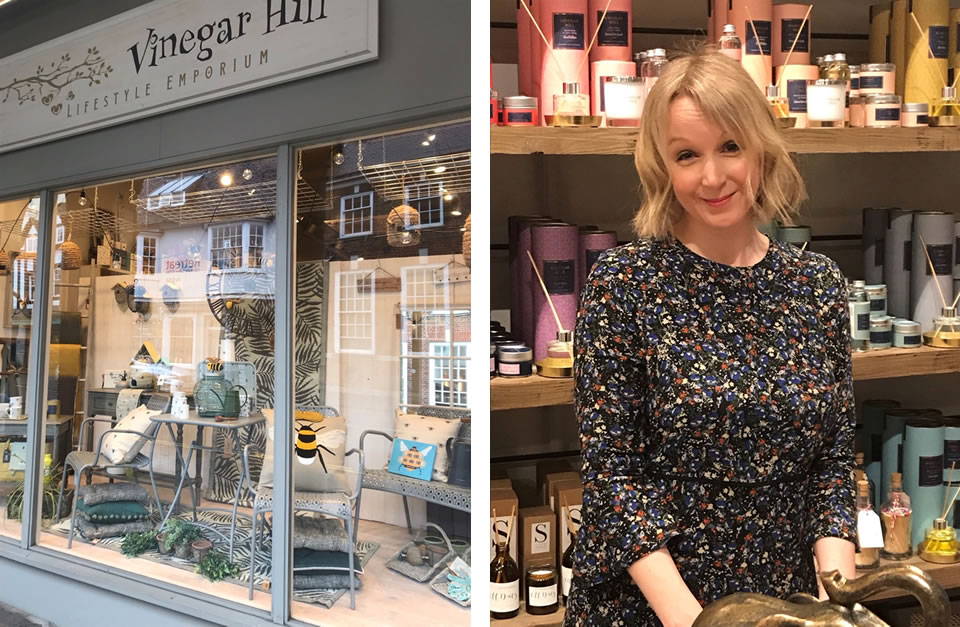 I came to Vinegar Hill in March 2017, not long after we opened, after working for 20 years with Next in various roles and store manager positions. It was a big decision to make the move but a happy one. I got married last July to Adam after finally getting around to it. We have a daughter Caitlin who will be 21 this October - I have no idea where that time has gone.
My go-to-cocktail is an Espresso Martini, my favourite film is My Best Friend's Wedding, favourite dinner is Mushroom Stew or a Lentil Bolognese (our family have been veggie for nearly 4 years!) I have a very fluffy cat called Millie who loves to bring me presents!
I bake a lot….I have made wedding cakes, birthday cakes and this year was interviewed for the GBBO but that's as far as I got - although the lady did say Paul Hollywood would love my cottage loaf!

Vinegar Hill Farnham is the newest store of the Vinegar Hill family and opened in November 2016. The store used to be a clothing store called Blink and a phone shop. The two shops have been knocked through to create VH Farnham.
The store is located in a beautiful Old Town Hall Building under an arched walkway, which is all lit up at Christmas time. The grade 2 listed building is where the town market was held back in the day, being overlooked by Farnham castle at the top Castle Street - we are the prettiest shop in Farnham.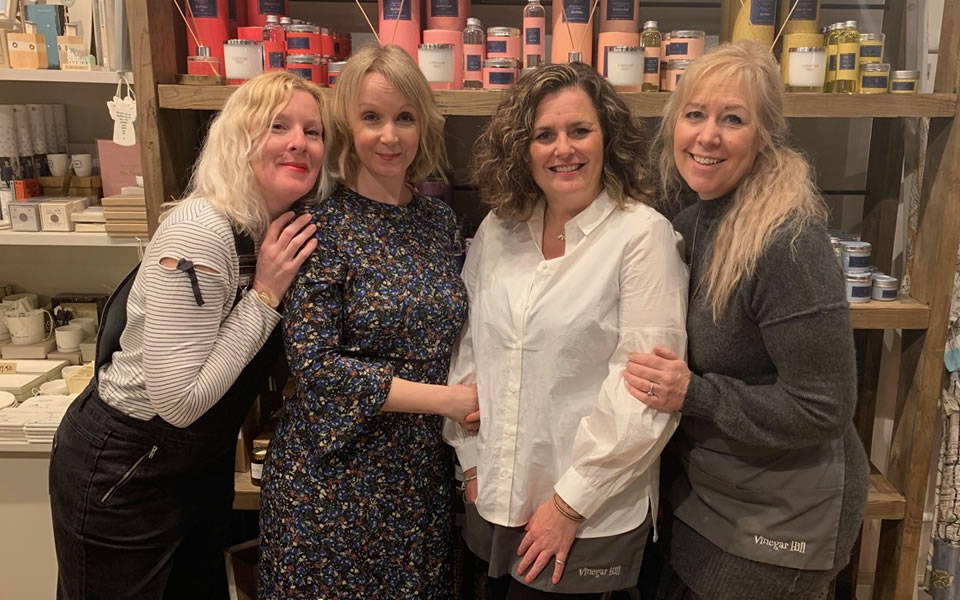 As a team we are a little family who see each other outside of VH life and we are so supportive of each other. Our day always starts with a cuppa and a catch up (even though we only saw each other the day before). The working day is always fun with lots of giggles which our customers get involved in.
We have many regular customers who come for a visit and a chat. A lovely lady and her dog Peggy visit us every day as part of her routine after losing her husband. Another very sweet lady pops a little bag of sweets through the letterbox everyday along with a letter or a card telling us that she loves us and to have a good day. Last Christmas, we made her a Christmas stocking filled with lots of goodies.
Vinegar Hill's designer, Sarah Austin often comes and works with us in Farnham which is lovely as we get to see all the lovely stock that she has found on her travels to India.
Is there a typical Farnham customer?
We have a variety of customers in Farnham! Lots of mums and babies (who our lovely store advisor Karen will offer to look after while mum shops) as well as students from the Arts Uni and people with their dogs. Everyone has a dog in Farnham - we are now learning the names of our furry friends!
We do have a regular customer base now we have been here for over 2 years, they come every week for a look around to see what's new and have a chat with the team!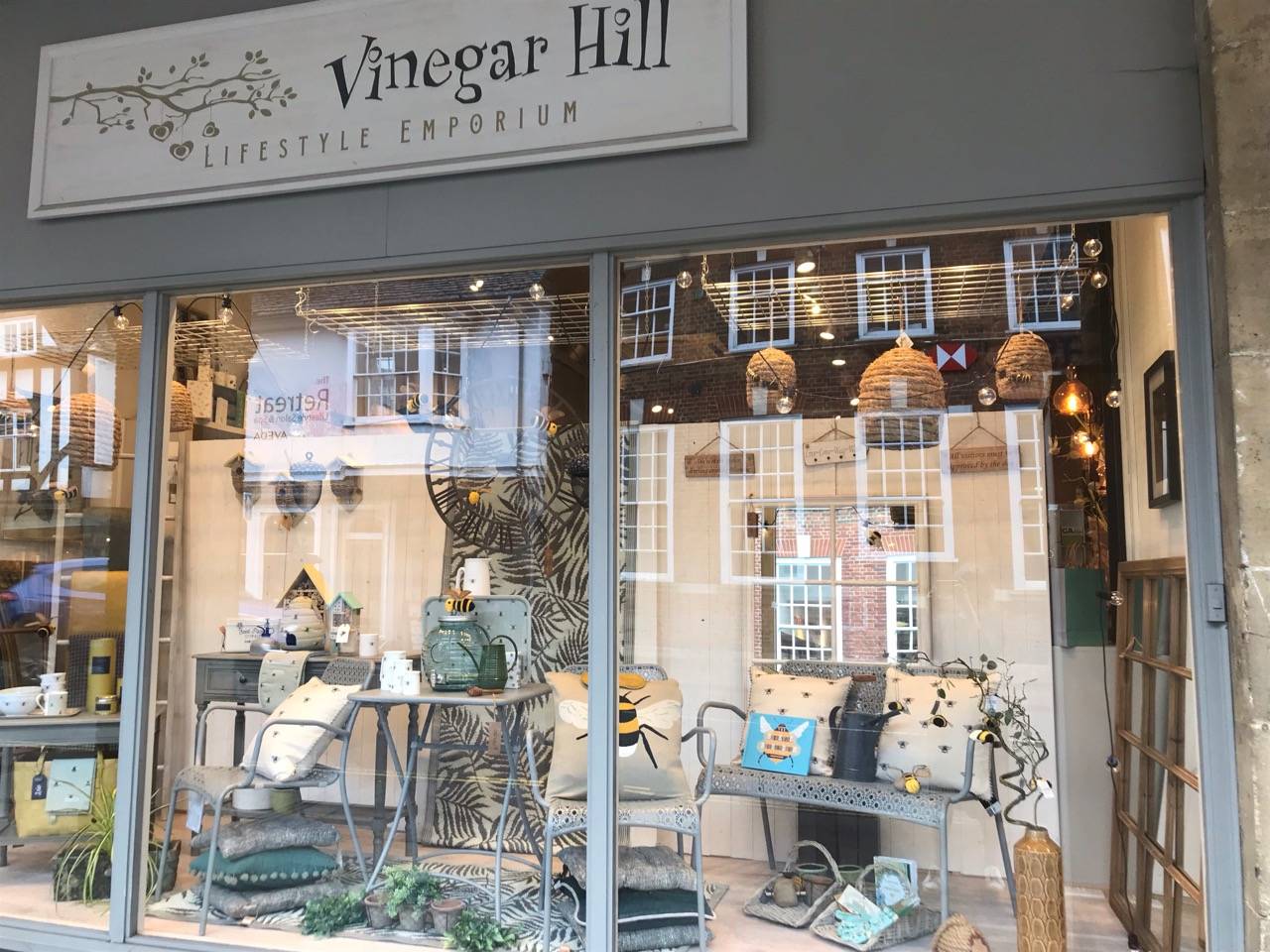 What are the top 5 best sellers?
Kids: We are lucky to have a kid's window, which is always fun and exciting. Jellycat cuddly toys are a great seller and our favourite delivery (for a few cuddles!). Lighting: We stock some lovely lights from Light and Living which are a great seller. They feature regularly in our windows and get a lot of attention and sell.
Books: Cook books like Roasting Tin, Vegan, Happy Food all sell well… along with a little Date Night Cookbook. Travel and coffee table books like Pretty City London& Lonely Planet travel are popular amongst our customers. We have a great range of kids' books too. From Peter Rabbit, Jellycat and The Stories for Boys and Girls who Dare to be Different all are loved by our younger readers.
Candles: Customers love our Vinegar Hill own brand scents. As a team, our favourite is the new Rhubarb & Peony fragrance. Heaven scents is also very popular too! Black Pomegranate is my personal favourite from the range as well as the new Lime Leaf and Ginger.
Furniture: For a smaller store, furniture sells well for us. Biggie Best and our own brand pieces are very popular. Our armchairs, once they are in the window, are always being admired and are soon on their way to a new home.

Anything else about Farnham?
Farnham is officially the nicest town in Surrey, an old Georgian market town with boutique shops and coffee shops. Everyone has a dog! There are doggie stops outside shops where your dog can grab a biscuit and a drink.
Famous faces from Farnham include Jonny Wilkinson (Former England Rugby captain) Mike Hawthorne (1st British Formula one champion ) John Noakes ( Famous Blue Peter presenter ) and Brenda Longman ( who did the voice for Sue in Sooty & Sweep)!