After two years of navigating our way through using our homes differently (creating home offices on the kitchen table, gyms in our lounges and children's entertainment centres in our hallways), this year is seeing a shift towards reclaiming and evolving our living spaces. We all managed to make do during those uncertain times, but now we are coming out the other side and moving towards hybrid working as the norm, we are looking to adapt these makeshift spaces to more permanent designs that accommodate our new way of living.
This drive to create change is also currently sitting alongside the desire to decorate more consciously and sustainably.
We've all garnered a renewed interest in our impact on the planet, and we want to move away from the 'buy it and throw it away' consumerist culture of late. Now thoughts are moving towards updating our homes with a more personal and lasting style that reflects who we are, as well as how we want to use the space. This approach encourages thoughtful purchases of items that are either beautiful, functional, or have personality. This echoes the 'Marie Kondo' sentiment that we should only have items in our home that bring us an immense sense of joy. Decorating our homes in this way will give us a deeper awareness of how we use our spaces and the impact each room has on our emotions and wellbeing. If we are surrounded by things that make us feel happy, we should in turn feel happier and have a more positive outlook each day.

"Those who contemplate the beauty of the earth find reserves of strength that will endure as long as life lasts." - Rachel Carson
The slower pace of pandemic life also helped many of us re-connect with nature and appreciate its power and ability to uplift, inspire and invigorate. This connection continues to resonate in our interiors, as we look to bring some of the wonderful benefits of the natural world indoors when restructuring our living spaces. With a heavier emphasis on creating calming surroundings in our homes, we're seeing a growing movement towards Biophilic design principles in home interiors. Our love of nature has brought about this essential need to incorporate aspects of the natural world that contribute to improving our health and productivity into the modern built environment. Wellbeing and mental health are as high on our list of 2022 priorities, as being good to the planet and making mindful purchases, so embracing biophilic interior design will help fulfil both needs.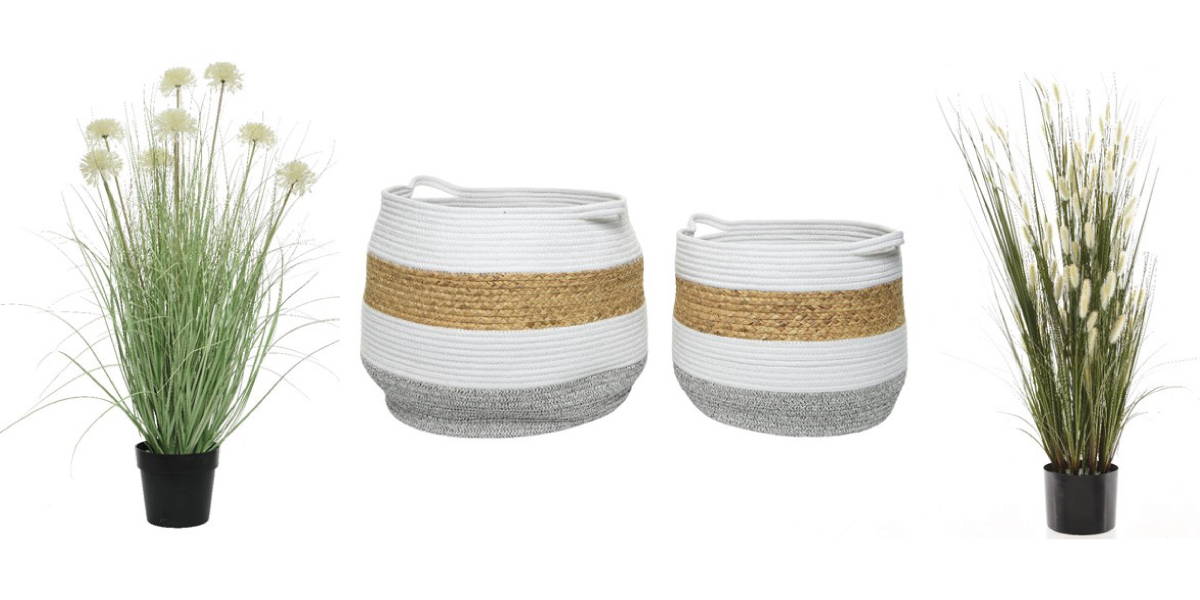 Here are a few simple ways to harness the power of nature in your homes:
- Maximise natural lighting and ventilation in your key living spaces to help make interiors feel lighter and airy.
- Incorporate plant life. Use real plants to help with air purification where possible and artificial plants for those darker corners where you need to add a splash of green for a visual connection to nature.
- Buy furniture and home décor pieces that use natural materials like bamboo, cork, cane, raffia, stone, rattan and sustainable timber.
- Integrate some softer, curved shapes, patterns and textures of nature through furniture, soft furnishings and artwork.
- Embrace the colours of nature with calming shades of greens and blues, as well as rich earthy tones, which will add visual warmth to rooms.
So, as we head towards the joys of spring, use these cold dark winter evenings to plan a refresh of your home, to inspire, boost your productivity and contribute to a stronger sense of well-being.
Bring a little nature into your home with:
- Plant Pots
- Plant Stands
- Plant Hangers
- Cork Placemats, Trivets, Latte Mugs and Coasters
- Cushions- colour / shape
- Curved furniture,
- Circular Rugs
- Woven Baskets
- Artificial Flowers / Plants